Simple quick entry of 'construction points'
Our colleagues from Ingenieurbüro Becker have released an app for the fast recording of so-called construction points as a supplement to the "Localexpert24" platform. It allows users to capture images of civil engineering projects along with corresponding information at any time using their smartphone and to upload them directly as a 'construction point'.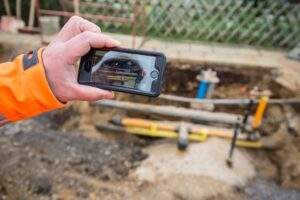 IWR GmbH was able to support Ingenieurbüro Becker in the development of the app in the form of a lively exchange of ideas. As enthusiastic users, we recommend that civil engineering players test the Localexpert24 platform and the useful app. Click here to download:
(Android): https://play.google.com/store/apps/details?id=com.le24mobile
(iOS): https://apps.apple.com/de/app/localexpert24/id1615042251
What is localexpert24?
The specialist portal localexpert24 offers the solution to secure and make available photographs, videos and valuable additional information in the long term. – Which civil engineering company was at work? Where do the lines run? Has a soil survey already been carried out? – Specialist infrastructure knowledge is preserved and offers a wide range of benefits to engineering firms, construction companies, municipalities and other stakeholders even years later. This means that construction can be carried out with less friction, because search trenches or even damage to lines can potentially be avoided. And at the end of the day, this saves time and money.