On-site appointment in Rheinberg
The city of Rheinberg commissioned us to create operations manuals for 34 pumping stations, including wastewater, combined sewer, rainwater and high-water pumping stations. In the medium term, operations manuals are to be compiled for the entire sewer network, including pumping stations, PKS stations (plastic pumping stations), rainwater retention basins, and small wastewater treatment plants.
In this context, our employees Federica Collini and Konstantin Hartmann were in Rheinberg at the beginning of May to make important arrangements on site and to take photos.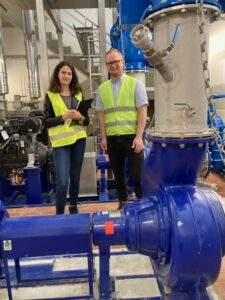 —
Operations manuals in accordance with regulations
All manuals are prepared by us on the basis of the DWA worksheets DWA-A 199-2 and DWA-A 199-3. Would you like to know more about this project? Feel free to contact us at any time.
—
Website of the city of Rheinberg: https://www.rheinberg.de