Our engineering office will advise and assist you in planning your site drainage system to ensure its proper functioning.
Drainage application, flood proof, rehabilitation
We support you with the drainage planning or the drainage application for your building project and make all necessary arrangements with the approval authority. Together with you, we will find the best solution for your site and design systems for the retention, infiltration or throttled discharge of precipitation water and coordinate the solutions with the authorities until they are ready for approval. Our engineers develop concepts and complete application documents, plan and supervise the construction work and, if required, carry out flood performance calculations or runoff simulations with two-dimensional hydraulic calculations.
Leakproof sewers are essential
German law requires public sewage systems as well as private sewage pipes to be leakproof. Through leaks in site drainage lines or public sewers, an infiltration of groundwater into sewage systems can occur. Furthermore, leaking pipes lead to wastewater pollution of soil and groundwater. Groundwater is the primary source of drinking water production and therefore subject to strict regulations. § 61 of the Water Management Act (Wasserhaushaltsgesetz) establishes a basic responsibility to keep wastewater facilities in proper condition and to monitor their function. For the construction of drainage systems as well as the examination of their leakproofness, technical expertise is necessary.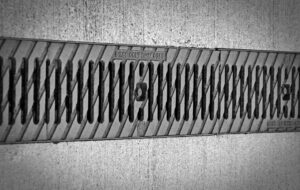 Prevention through maintenance
Regular checks on the pipes are necessary to identify damages early and to prevent groundwater pollution. The proper functioning and maintenance of the site drainage system are the responsibility of the property's owner. We are happy to assist you as consultants and planners.
Planning and sizing of the site drainage system
Assessment of the need for rehabilitation and development of rehabilitation concepts
Supervision of the leak test according to DIN 1986-30
Drainage planning: preparation of drainage application / drainage request
Selection of a suitable drainage system
Construction supervision
Creation of a flood performance certificate according to DIN 1986-100
Preparation of the drainage application and all associated documents
Specialists Site Drainage
Our experts have a broad range of specialist knowledge. Dipl.-Ing. Frederik Maurer can draw on a wealth of experience in water management and is available to provide you with advice and support on the subject of property drainage. Mr. M.Eng. Adriano Rosin is also an expert in the field of property drainage in addition to being a specialist in grease and light liquid separator systems. As an engineering office with a dedicated team, we see ourselves as interdisciplinary problem solvers and enjoy taking on complex challenges. If you have any questions, please do not hesitate to contact us by phone or via our contact form.
Further information on property drainage
For more information on the sewer system 'site drainage', see the corresponding Wikipedia article.
Contact us! We'll be happy to help with your questions and queries.