As an engineering company, we support and advise you in drainage planning to ensure the proper functioning of your property drainage.
Drainage application and flood proof: We support!
Proper site drainage is essential for your construction project or existing property. Rainwater, as well as flooding resulting from heavy rain events, can cause significant damage to buildings and facilities if the water is not properly drained. Therefore, it is important to ensure that your property has adequate drainage.
We provide you with full support throughout the entire process of drainage planning for your construction project and make all the necessary arrangements with the approval authority. Together with you, we find the best solution for your site and design systems for the retention, infiltration or throttled discharge of precipitation water and coordinate the solutions with the authorities until they are ready for approval. Our engineers prepare concepts, complete application documents (drainage application), plan and supervise the construction and, if required, carry out the flood proof according to DIN 1986-100 or runoff simulations with two-dimensional hydraulic calculations.
Leak test according to DIN 1986-30
German law requires public sewage systems as well as private sewage pipes to be leakproof. Through leaks in site drainage lines or public sewers, an infiltration of groundwater into sewage systems can occur. Furthermore, leaking pipes lead to wastewater pollution of soil and groundwater. Groundwater is the primary source of drinking water production and therefore subject to strict regulations. § 61 of the Water Management Act (Wasserhaushaltsgesetz) establishes a basic responsibility to keep wastewater facilities in proper condition and to monitor their function. For the construction of drainage systems as well as the examination of their leakproofness, technical expertise is necessary. In addition to full support in drainage planning, we also provide support on the subject of leak testing of wastewater pipes, storm sewers and similar systems in accordance with DIN 1986-30.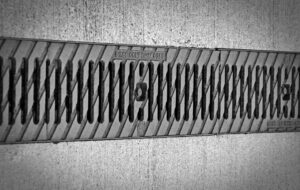 Prevention through maintenance
Most problems in property drainage systems are caused by blockages, leaks, and wear and tear on components. This can be detected and prevented by inspections and maintenance work. For example, regular inspections of the pipelines are required to detect damage in time to prevent groundwater contamination. An experienced professional can inspect the equipment and perform any necessary repairs or cleaning. The property owner is responsible for the proper functioning and maintenance of a property drainage system. We will be happy to advise you on this topic and recommend specific maintenance measures.
Planning and sizing of the site drainage system
Assessment of the need for rehabilitation and development of rehabilitation concepts
Supervision of the leak test according to DIN 1986-30
Drainage planning: preparation of drainage application / drainage request
Selection of a suitable drainage system
Construction supervision
Creation of a flood performance certificate according to DIN 1986-100
Preparation of the drainage application and all associated documents
Specialists Site Drainage
Our experts have a broad range of specialist knowledge. Dipl.-Ing. Frederik Maurer can draw on a wealth of experience in water management and is available to provide you with advice and support on the subject of property drainage. Mr. M.Eng. Adriano Rosin is also an expert in property drainage and will accompany you in the process of drainage planning, support you in the drainage application and become active for you in the topic of flood proof. He also has the expertise for grease and light liquid separator systems. As an engineering office with a dedicated team, we see ourselves as interdisciplinary problem solvers and regard even complex tasks as a challenge that we take on with pleasure. If you have any questions, please do not hesitate to contact us by phone or via our contact form.
Further information on property drainage
For more information on the sewer system 'site drainage', see the corresponding Wikipedia article.
Contact us! We'll be happy to help with your questions and queries.