Sewer construction and rehabilitation
Last but not least, experience plays a major role in sewer construction and rehabilitation. With our know-how we create not only target-oriented planning but also sustainable renovation strategies.
Sewer construction means protecting groundwater
One of the most important prerequisites for the protection of groundwater is the professional construction and maintenance of tight sewer systems. We offer you the entire range of engineering services in the field of sewer construction. From planning to tendering and construction supervision to operational consulting services for sewer maintenance, we are there for you.
Range of services for sewer rehabilitation
Our service portfolio concerning sewer rehabilitation includes repair and rehabilitation as well as replacement. An optimal process selection in conjunction with a committed implementation enables a long service life of the sewer system. It is our goal to preserve or restore the impermeability, structural stability and operational reliability of the drainage system through rehabilitation measures that are both technically and economically optimised.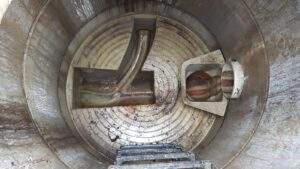 View into a manhole with GRP channel
Our services include:
Basic evaluation / design requirements
Assessment of existing facilities and their condition
Structural classification and assessment
Rehabilitation concepts and planning
Hydrodynamic sewer network calculations
Digital Sewer Registers (GIS)
Implementation and supervision of TV inspections
Supervision of the rehabilitation implementation
Tendering
Project controlling, planning, and construction supervision
Profitability comparisons
Innovative approaches
In addition to the classic fields of sewer construction and sewer rehabilitation, we also deal with future technologies. For example, we are currently testing the reliability of damage classification using artificial intelligence (AI). We are also involved in sewer inspection using aerial drones and see the future in the digitalisation of sewer construction and maintenance. In addition, the topic of "Building Information Modeling" (BIM) is playing an increasingly important role, so that we are focusing our attention here on further training and technology testing.
Expert advice
Our certified sewer rehabilitation consultant Marvin Elsbecker is at your side so that you can be sure of receiving qualified advice from us. He is also a certified expert for the maintenance of piping systems and has a wealth of practical experience in this field in addition to the specialist knowledge he acquired at the University of Kaiserslautern and the Technical Academy Southwest. Do you have any questions for us or specifically for Mr. Elsbecker on the topics of sewer construction or sewer rehabilitation? Then feel free to contact us.
Contact us! We'll be happy to help with your questions and queries.