Drainage concept required for forestry training centre
Due to the renaturation of the Emscher River in the area of the previous wastewater discharge point of the RVR forestry training centre Emscherbruch, a new drainage concept for the site of the training centre is required. IWR GmbH was commissioned by Regionalverband Ruhr, Division IV – Environment and Green Infrastructure, with the approval planning of this drainage concept. Wastewater and rainwater from the site were previously discharged untreated into the Emscher River in a combined system.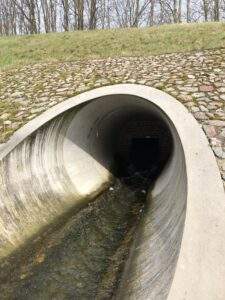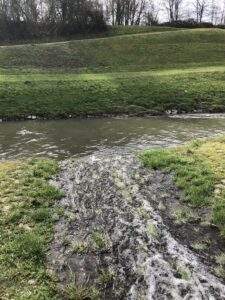 Construction of a small sewage treatment plant according to DWA-A 131 planned
As part of the planned renaturation of the Emscher River, the drainage at the forestry training centre is to be adapted to current guidelines and redesigned accordingly. The new drainage plan provides for the unbundling of the combined sewage network and the construction of a small sewage treatment plant for 20 p.e. according to DWA-A 131, which is to treat the wastewater before it is discharged into the Emscher. In addition, the approval of an existing infiltration trench for rainwater is planned in accordance with DWA-A 138.
---
Overview of our services drainage planning.
You can find more information about small wastewater treatment plants here.
Do you have any questions? Contact us.